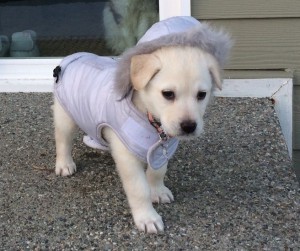 Meet Duchess, the newest addition to our office dog team! Duchess is a 12 week old lab mix and was adopted from a local animal rescue organization (we love to support dog rescues!). This little puppy is the sweetest girl who loves nothing more than being cuddled. Her favorite hobby is to grab her stuffed hippo and curl up in your lap while she plays with it.
She has been experiencing a lot of firsts and encounters every new task bravely. Stairs seem to still pose a challenge for her (and her face with all of the falling she does!) but we are confident she will master them soon.
Eating and playing with snow is also near the top of her list of favorites until she realized how cold it gets. She wasn't sure about her new snow vest at first, but quickly learned to love it once it warmed her up… and we love how cute she looks in it.
She brings so much happiness to our office and has truly become part of the Dog-ON-It family! We are excited to watch her grow, experience the world and learn dog agility like our other office pups.
Stay tuned next month to meet office dog Rory!
Tags: dog adoption, dog agility, dog park, dog rescue, dogs, office dogs, pet-friendly, puppies, puppy