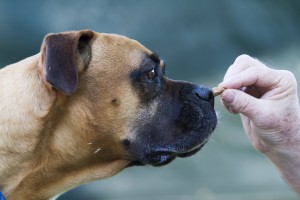 Pawsitive Reinforcement:
When it comes to dog training, there are many options and opinions as to the best method, however we believe that positivity breeds more positivity! Positive-reinforcement training techniques use non-confrontational methods to engage your dog's brain. This is done by rewarding positive behavior, and establishing rituals and training actions that are incompatible with negative behavior. Essentially, you reward the positive and either ignore the negative, or direct them to a behavior you do want.  Easy, right?  Doing this can help to lessen your dog's frustration with the learning process, while still allowing the dog to feel good. There should be no forceful actions as this can damage your pup's trust. Think about you it…how fast would you sit down for a cookie, some praise or a nice pat on the back? To a dog, those actions are not only treasured but an important part of their lives. Here are some tips on how to incorporate positivity in your dog's training.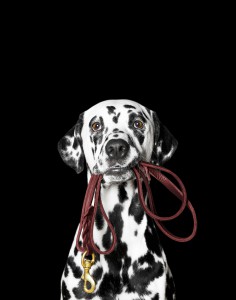 Treat Generously: 
First of all, when using positive reinforcement timing is key; the reward must be given within seconds or your pet might not connect the dots.  An example is when you give your dog a treat for sitting down at your command. You don't give them the cookie after they've sat back up and their attention is on something else, you reward them when all of their attention is focused on you and what they are doing. There are several types of positive reinforcement, it can encompass treats, praise, petting, or even a favorite game. Although most dogs (including our office crew!) are highly food-motivated, and this type of reinforcement can often yield the best results.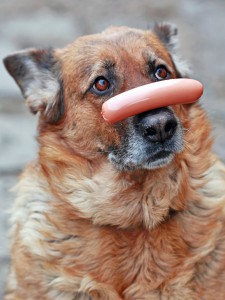 Sit. Stay. Play: 
You also want to pay attention to the type of commands you are using with your pet. Keep them short! Use simple one-word commands which are easier for your dog to understand. Some examples are: Come, Sit, Stay, Down, Heel, Off, etc… You might also want to inform your family or those you live with of these to help avoid confusion for your dog later – consistency is key! Your training sessions should also be short and fun, and the goal is to have your dog associate good things while training.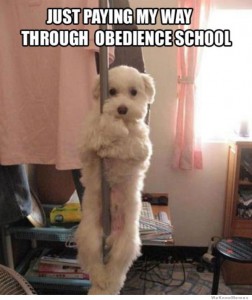 More How To's:
As time goes on and your pet becomes more skilled (and hopefully better behaved!), it is a good idea to gradually back off the treats and use them only on occasion. Eventually, the treats should no longer be necessary, however you should always reward Fido with verbal praise and a pet. It is important that you continue to use these techniques to maintain the behaviors you want from your dog.
Reward-based dog training helps create a range of desirable behaviors, which builds mutual feelings of trust and confidence, and a bond that will last for years to come. If you'd like more info on positive reinforcement and dog training, we highly recommend Victoria Stilwell's website.  It's a wonderful resource for all things dog. Good luck and woof woof!
Tags: breeds, dog, dog behavior, dog biscuits, dog health, dog obedience, dog people, dog safety, dog training, dog treats, pet care, pet safety, positive reinforcement