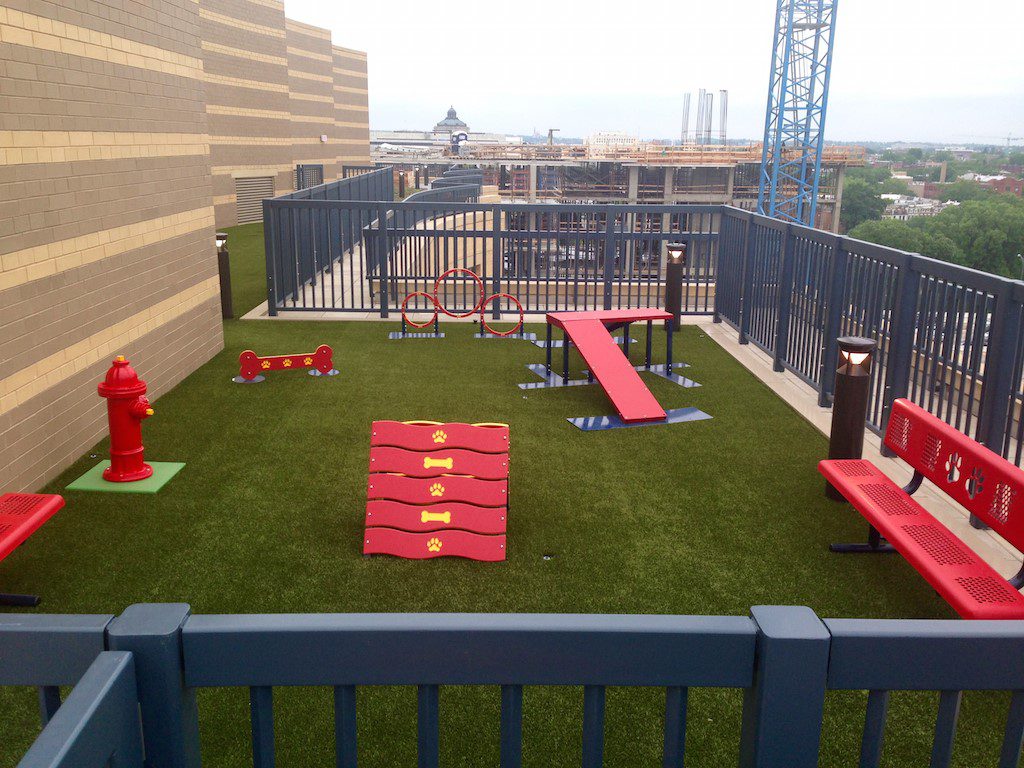 Bright Parks, Big City!
City dogs may be a sophisticated bunch, but just like their friends in the 'burbs, they need space to play! A walk through the concrete jungle is fun, but what's an urban dog to do when the hankering to fetch a ball takes hold? City dwelling dogs are on the rise and apartment communities are catering to them in a big way. Property management companies know that pet friendly amenities are a huge draw for prospective residents. They are catering to this furry niche by offering doggy welcome gifts, events and dog spas. But even if Rex is living the high life in a penthouse apartment, space can be hard to come by. Thankfully, rooftop dog parks are the perfect antidote! They provide a much needed outlet for our furry friends while also giving residents a safe, secure place to relieve their pets 24/7.
Space: The Furry Frontier
Property management companies have to get creative when it comes to offering pet perks. One of the smartest tactics in urban communities is converting underutilized rooftop or terrace spaces into bark parks. We're often asked about the amount of space needed for a rooftop dog park. The short answer: it depends! Even when dealing with limited square footage, most communities will have room for a pet relief kit and a grooming station. For larger areas, additional amenities like seating, fountains, shade, and agility components can turn your rooftop into a first class dog park with an amazing view! When designing your park, amenity placement is key. You'll need enough room between components for dogs to safely run and play. It's also important to consider any resident events you plan on hosting such as Yappy hours. Park Chelsea at the Collective, a 429-unit luxury building in Washington DC, chose play components with custom portable bases to provide flexibility. This allows their residents to rearrange the agility course for an added challenge and to store the equipment when more room is needed for events.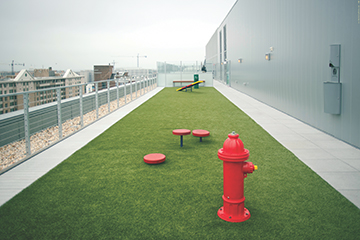 Surfacing Solutions
One of a dog's favorite things about going to the park is running on grass! Since real grass isn't exactly a great fit for rooftops, we have another option that is attractive year-round and offers the ease of low maintenance. Our popular Turf Pods are a portable system designed specifically for hard surfaces like cement, asphalt, or decking. With antimicrobial agents that reduce odor and elevated tiles that provide aeration and drainage, these are a perfect solution. Turf pods come in standard 36"x 48" squares that snug together using the park's perimeter/wall and can be moved for easy cleaning underneath and to help manage wear. Unlike traditional roll turf, the pods don't require professional installation and are a much more affordable option.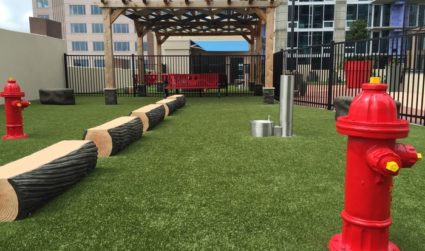 Features for Fido
Rooftop dog parks can go from "meh" to "wow" with the addition of the right features. Agility equipment keeps dogs engaged while burning off excess energy, and all dog parks benefit from a dog waste station to help keep the area clean. A fire hydrant is the canine equivalent of the office water cooler and adds a cute aesthetic to any dog park. If you and your pooch are easily parched, a human and dog drinking fountain is sure to cool you both off on hot summer days. There are so many options to turn an empty rooftop dog park into a place all dog residents will be barking to go!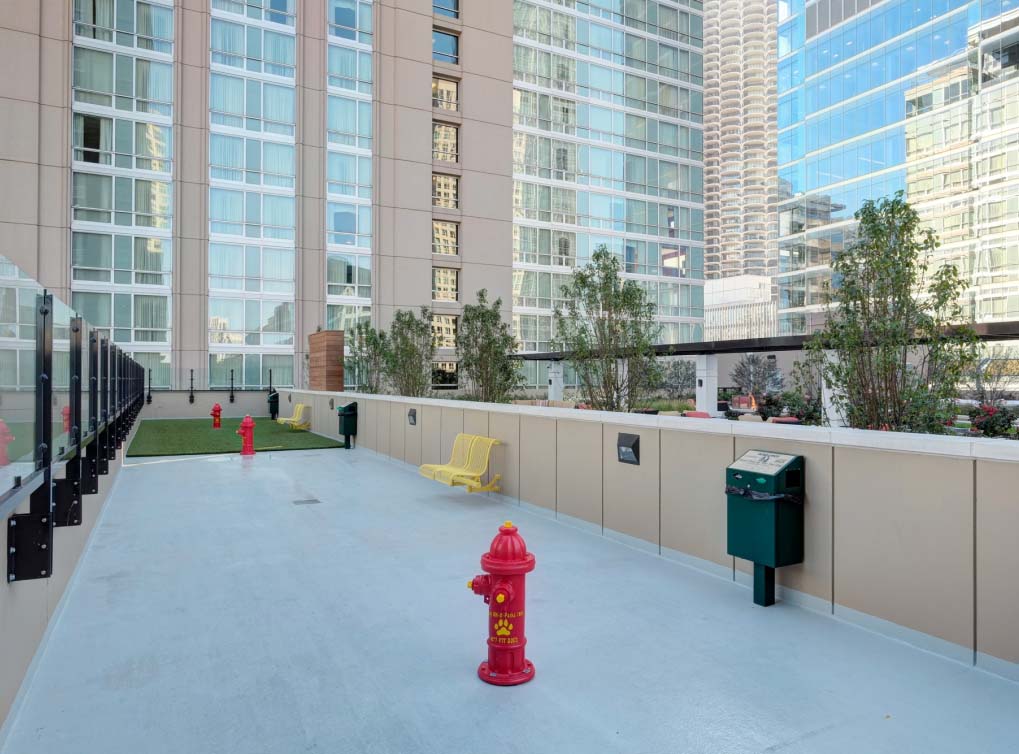 Safety First!
Safety should be the top priority for all dog parks but is crucial component for a rooftop. It's vital to have fencing or a barrier that is at least 5' high. Double slats or a solid wall are also recommended so that smaller dogs can't slip out. A double gated entry is also a good idea to ensure that dogs are safe on their way in and out of the park. A safe dog is a happy dog, and with just a few steps, your rooftop dog park can be a safe and inviting place for dogs to have the time of their lives!