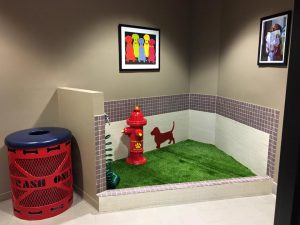 Making Pet Travel Pawesome: Pet travel has gone to the dogs and pet parents couldn't be happier!  Between working service animals on flights and more families including their 4-legged friends on vacations, dogs are travelling at record rates. Travelers with service animals and pets know that the potty problem used to mean added airport stress; where will your dog relieve himself when in a time crunch to make your flight? Thankfully airports now provide terminals with accessible animal relief areas which cater to the jet setting pooch. Dog-On-It-Parks is proud to lead the pack with design services and products that make travel more comfortable for dogs and their owners. Two airports that we've outfitted (San Diego and Atlanta) were featured in the list of American Kennel Club's Top 10 Most Dog Friendly Airports. We love making air travel easier for service animals and pets alike, and with just a few key items, any airport can provide a "pawsh" relief area for dogs.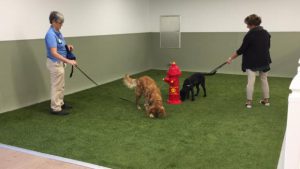 The Grass is Greener:  One of the most important elements in a pet relief area is quality surfacing. One popular option is our PetGrass Pods; their short, dense blades allow for easy waste removal and the antimicrobial agents built into both the yarn and backing help to prevent odors. Available in standard in 50″ x 40″ squares or custom sizes, they snug together for easy installation and maintenance and typically cost less than a standard roll-style turf installation. Pods are a wonderful choice for high traffic areas, as they can easily be swapped around to manage wear and lifted to clean underneath.  The addition of a Fire Hydrant is a fun touch, and provides a place for dogs to get an update on each other's jet setting adventures.  And don't let your pooch become parched! Providing hydration for dogs is very important, as they are more likely to become dehydrated while traveling. Our Pedestal Bottle Filler with Pet Bowl features a handy eco-friendly bottle filler as well as a pet bowl, so you don't have to shell out top dollar for airport bottled water.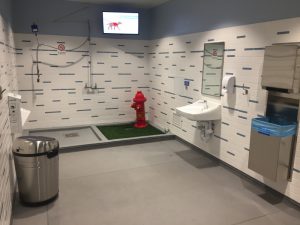 Shopping and Adventuring in Style: Dogs aren't only living the high life at airports. Many more public spaces such as malls, restaurants and retail establishments are welcoming our furry friends and proving pet-friendly areas for play, hydration, and relief. With a treat canister, built in waste bag dispenser and water bubblers galore, our Dream Fountain is a hit among pups everywhere and will keep customers coming back again and again.  Lastly, adding a few select pieces of agility equipment will also help ensure that your public space is the place for dogs to see and be seen, all while having a barking good time.