With two rambunctious Great Dane puppies (and litter mates!) recently welcomed into the Dog-ON-It family, we've been busy puppy proofing just about everything we can.  Here are some tips to help make sure your pup is as safe as they can be when they're not snoozing the day away.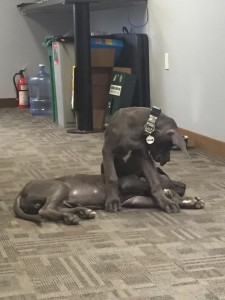 The Chew:  Puppies, just like human children, go through teething…in addition to exploring the world around them with their mouths.  We've found a few ways to help distract them from chewing on things they shouldn't (like furniture or you)! Our blue Dane boys love elk antlers and bully sticks, and keeping them occupied with food dispensing puzzle toys is a fantastic way to direct their energy towards something positive.  The Kong Wobbler is especially popular here and we use them to feed Otto & Gozer their lunch; they have to knock it over to dispense the kibble and the hard plastic makes it pretty chew proof as well.  Another option is to stuff a standard Kong or other durable chew toy with treats, peanut butter, yogurt and/or anything else your puppy loves.  Even better?  Put it in the freezer for an hour or so for some relief for those puppy teeth and gums.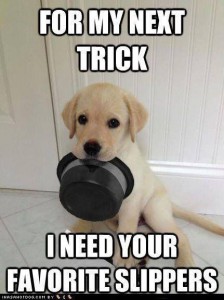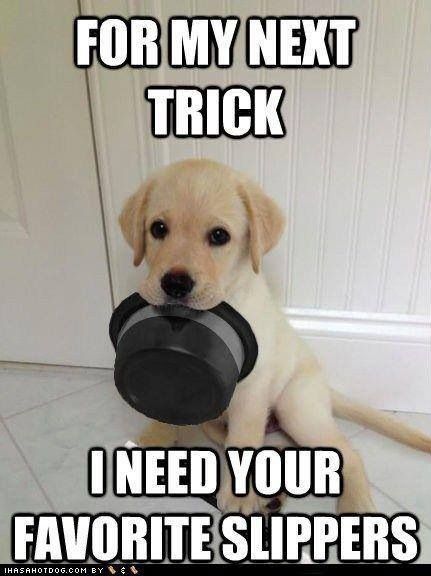 Crates are Great:  Ok, folks, this is a lifesaver.  Dogs are den animals and love having a quiet space they can call their own.  Make sure the crate isn't so large that they could use part of it as their bathroom (crate dividers are helpful!) and also keep it stocked with a favorite blanket and some toys.  But…most importantly, never use the crate as punishment.  They should want to go in on their own and it always helps to use treats or positive reinforcement to reward that behavior.  We especially like the light travel style crates for the office and the sturdier wire, collapsible ones for our home.
Highway to the Danger (Free!) Zone:   Puppies are notoriously curious and even with the best of intentions, can get themselves into a pickle.  Whether it's a particular food, something they've discovered in the yard, or anything that might not, ahem, pass, keep your eyes peeled for potential problems.  Also, if Fido is smarter than the average bear, child-proofing cabinets in both your bathroom and kitchen where cleaning supplies are usually kept is not a bad idea.
Keeping your puppy fed and full with the right foods can help to prevent dumpster diving for less than ideal snacks, and can also help to prevent pancreatitis, a painful and potentially deadly illness.  Some common foods to avoid:
Chocolate, raw onions, anything with xylitol, cooked bones – particularly poultry, caffeine, grapes/raisins, alcohol and even though it's legal now in some states…marijuana.  Vet offices are seeing a huge increase in marijuana related visits, so please keep your stash "high" and out of reach!
We like to supplement our puppies' meals with some healthy people food too.  Fresh veggies such as green beans, peas, shredded carrots are well received as are roasted root vegetables like sweet potatoes, turnips, and rutabagas.   Eggs are popular too, along with limited amounts of cottage cheese and plain yogurt.
X-Ray Vision: Well, we don't really have x-ray vision, but we do keep a super close eye on the floor.  Here at the office, things like random staples, paper clips, and tape can easily end up in a dog's mouth.  Making sure your floors are tidy is an easy way to prevent obstructions and digestive upset. Another big one – cords.  Yep.  Our pups love cords.  And since you can't really unplug everything, Bitter Apple Spray along with a firm "NO!" is a great deterrent. Remember to praise your pup when they drop or walk away from whatever you've asked them to!
Hopefully some of these tips might help keep your puppy safe and you sane – woof!