Giving your dog a space to call their own is important as it adds structure to their life and strengthens the pet/guardian bond. Take napping for example; isn't it more comfortable to sleep in your own bed? Dogs feel the same way!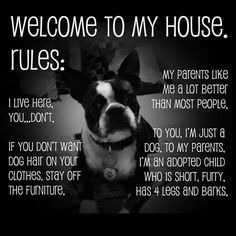 Here are some ways to help make your home pet-friendly without breaking the bank:
The kitchen; the heart of every home. Building a spot for your dog in the kitchen allows them to be part of the family's hustle and bustle while still keeping out of the way if necessary. Incorporating a small eating area into your kitchen design with space for a food dish and water bowl is a fun way make Fido happy. This can be something as simple as a small shelf on the end of an island, pantry space or a bottom drawer.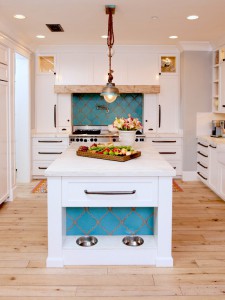 With large and often heavy food bags, storage can be inconvenient for dog owners but they can easily conquer that problem by inserting handy storage compartments somewhere in the kitchen. They can be built into the kitchen cabinets or under the counters, giving the owner quick access to the food at feeding time and keeping the food out of site from any mischievous pets who might get into to trouble should they find an open bag (Labradors – you know who you are!). To keep toys at bay, it's a good idea to think about an open hamper or basket where toys can be easily tossed into for quick clean up as well as easily retrievable by the pet. If you don't want your pet getting into their toys unsupervised, you can use a decorative basket which can be closed and therefore keeps toys out of reach.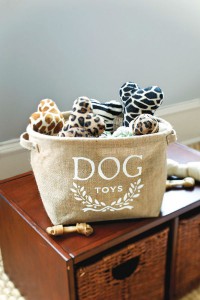 Pets have all sorts of different reactions to taking a bath, but to make it easier on the owner there are ways you can turn part of your laundry or utility room into a washing station. An oversized stainless steel sink for smaller dogs or a commercial floor mounted sink for medium to large sized dogs are both inexpensive and convenient. For a larger pet, a walk-in shower is a great solution for grooming along with a handheld shower head. This can make it much easier to bathe your dog because you have control of the water flow and direction of the spray wherever you want…especially if your dog is being difficult! Just make sure to keep towels nearby for both your pooch and the puddles on the floor. You don't want your pooch to catch a cold or lose their footing and slip.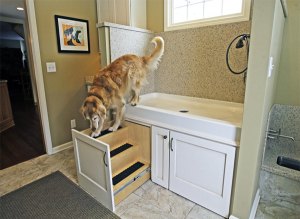 Now what about flooring? If you have hardwood floors, keep reading. When you're considering hardwoods make sure you specify them as "unfinished", and then add a durable top coat so the occasional accident doesn't seep through. Also, be aware that hardwood flooring can be stressful for some pups. Older dogs can have trouble navigating them and every dog finds hardwood a bit slippery, so a slide and fall incident can cause serious injuries to their hips, knees and elbows.
To help prolong the life of your floors, make sure you keep your pets nails trimmed to avoid scratches as much as possible and throw down some area rugs. They can help to brighten up a living space and also provide your pup with a comfortable spot to rest (along with helpful traction)!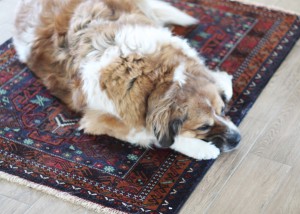 Whenever you make changes to your home it is imperative that you keep your dog in mind, it's their home as much as it is yours and making simple changes for their comfort and your organization can change the lives of both you and your pet for the better.