It's no secret that millions of people use cannabis for medicinal and/or recreational purposes. There are hundreds of chemical properties in cannabis, the most well-known being THC (tetrahydrocannabinol). THC is responsible for the psychoactive effects of cannabis (AKA getting high), but can also help with health issues including pain, nausea, anxiety, and epilepsy. However there's a new kid on the block that's becoming a superstar in the pet health industry – keep reading for more info on how CBD might help your canine.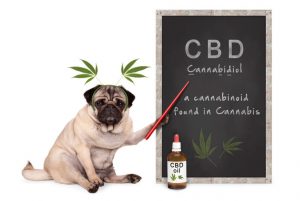 What is CBD?:
CBD (Cannabidiol) is one of the chemical compounds found in cannabis, and for pet health applications, it's derived from hemp plants that contain less than 0.3 percent THC (so your dog won't get stoned!) and is considered safe and nontoxic by veterinarians. CBD supplements can be ingested orally or can be applied directly to the skin with a topical salve. Right now, you can legally purchase CBD for your pet in all 50 states through veterinary clinics, pet stores and online retailers.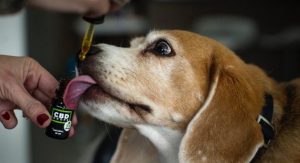 How can CBD help your pooch?:  
Because cannabinoids offer both relaxation and pain-relieving benefits, there are many situations in which CBD therapy can be helpful. If your dog suffers from seizures, low appetite, chronic pain, cancer, arthritis, autoimmune diseases, or neurodegenerative conditions, you may want to consider adding CBD to their treatment plan.  However, they can sometimes interact with other medications, so it's important you speak to your vet dog beforehand. Results for anxious dogs are especially compelling. If you have a Nervous Nellie who suffers from separation anxiety, fear of loud noises or fireworks, or is constantly on high alert, CBD may help to take the edge off.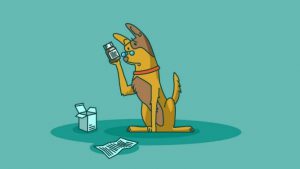 Dosage Recommendations: 
Depending on the delivery system you are using, dosing may vary. You might consider starting with half the suggested dose to see how your dog responds, and slowly increase as needed. General CBD dosages are as follows:
Dogs up to 25 lbs. – up to 1.25 mg twice per day
25-50 lbs. –up to 2.5 mg twice per day
50-75 lbs. – up to 3.75 mg twice per day
over 75 lbs. – up to 3.75 mg twice per day
If your dog is on the picky side, don't give up hope! You may need to try several different brands until you find one that your dog finds palatable. We use CBD with our office dogs, and have found oil is the easiest to work with.  You can drop it directly into their food, a treat, peanut butter, etc.
Again, it's helpful to reach out to your vet with any questions and do some additional research to help determine of CBD might help your dog!