Truth: It's hard to leave your best friend at home while you go to work. Saying goodbye each morning to those sad eyes can be the hardest part of the day. Thankfully, more and more companies (like us!) are pet-friendly. If you're lucky enough to find yourself working for a company that lets your four-legged friend share your space, here are some office dog survival tips to help make life easier on you, your pooch and your coworkers.
     Must-Have Supplies
Being with you all day will make your dog's tail wag with happiness, but there are several key items that will keep Fido healthy and comfortable. Create a cozy spot for your pup by bringing in a dog bed or fluffy blanket – even better if they smell like home. If they have a favorite toy, make sure to have it on hand along with poop bags and a pet safe disinfectant in case an accident does happen. Accessible food and water is a must, as well as any medication they may take during the day. Toys and bully sticks (tip: go for the odor-free ones!) are a great outlet for your dog to help pass the time while you work. For nervous dogs, plugging in a hormone releasing diffuser can calm them down and make them feel more at ease. Puzzle games are particularly fun for dogs and will keep their minds engaged all day.  And don't forget the treats!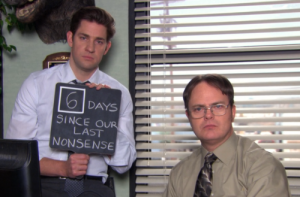 Introductions Matter
Can't we all just get along? Unless you work in office Babylon, there's a good chance that a few of your co-workers might rub you the wrong way – just like Jim & Dwight from The Office. The same can be said about dogs. Fluffy and Muffins may never be best friends, but if you introduce them properly, they may be able to tolerate each other. To help prevent doggy drama, it's important that dogs meet in a neutral place so nobody gets territorial. The office parking lot or a nearby park are both good choices; take several minutes for them to check each other out, do a few sniff tests and become familiar with each other. Then, walk them back into the office together. This can make a world of difference when it comes to keeping the puppy peace.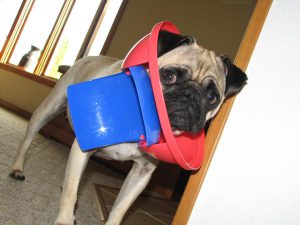 Doggy Proof Your Office
Things that seem boring to you at work can seem like a lot of fun to dogs! It's a good idea to hide any electrical cords they might chew on, as well as secure any toxic materials that they could get into. Items like permanent markers, pesticides, office snacks, and poisonous plants are best kept away from your furry friend.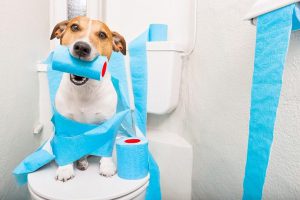 Stay in Tune with Your Dog
Just like there is no "I" in "Team," there is no "Pee" in "Office, so it's important to know your dog's bathroom schedule. Make sure that your pup has enough opportunities to relieve himself outside rather than in Barb from accounting's office. And of course, keep lots of poop bags on hand to clean up after a potty break.
Office life agrees with some dogs, and stresses others out. You know your pooch best, so watch out for signs of agitation or stress at work. Additionally, if your dog is aggressive, excessively shy, or very excitable, the corporate world may not be right for him.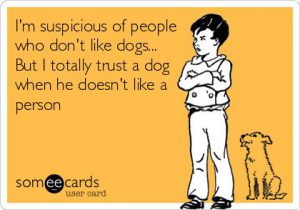 Respect Your Coworkers
Although you love your dog with a capital L, some of your coworkers may not feel the same way.  Even if your pet-friendly office feels more like a zoo than not, it's best to check and ask if anyone is allergic to dogs or doesn't feel comfortable around them before bringing Spot in. There may be workarounds for these situations, and you'll also know to keep him away from these particular colleagues.
Be sure to follow us on Facebook, Pinterest, Twitter and Instagram for more pet-friendly tips and tricks!