Let's just start off by saying we're dog people. You know, the kind of folks who have dogs running around the office (see Exhibit A below), make their own dog treats, cross the street just to say hello to another dog, go to 4-H/agility/drafting events on the weekends, belong to a raw food co-op…the list goes on and on.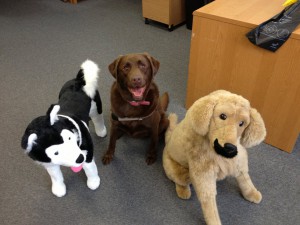 When it comes to designing dog parks and dog park equipment, we think this makes all the difference in the world. Why, you might ask?
Would a restaurant hire a chef who didn't actually enjoy eating? Because you can surely "cook" something, but it makes a huge difference when made by someone who truly loves food and has the knowledge to make something amazing. Would you trust hopping into an airplane if the engineer didn't have a basic knowledge (and more would be better here, right?) of physics and how to get a giant piece of metal with wings to fly at 30,000 feet?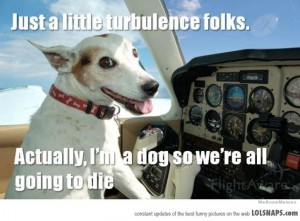 We believe the same school of thought applies to dog park equipment. Our office and design team have collectively 30+ years of experience in dog agility, metal fabrication, playground design and dog behavior.
What that means for our customers is that they get the best everything. All of our dog agility components are tested for safety and durability with our office pups who range in size from 15 pounds (Hello Sprocket!) up to our large breed mob of Bernese Mountain Dogs and Labradors, so we know what works for the little guys, the big dogs and every size in between.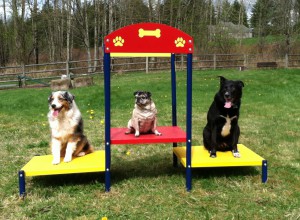 Design questions? Yep, we got you covered. As the first company in the US to specialize exclusively in dog parks and dog park amenities, our customer service can't be beat. We can guide you through surfacing options, whether it's feasible to include a pet fountain or water feature, irrigation considerations, fencing and best of all, respect your budget.
So when you're looking for a company to help you with your dog park, consider the following points:
1. Do they offer a lifetime warranty against rust on the agility equipment? Hint: We're the only company in the US that does and believe us, you want this. Between environmental factors such as rain, mud, salt air and male dogs who, ahem, like to water everything in sight, rust is a huge problem in dog parks.
2. How long have they been in business? Dog parks, and dog park businesses are a hot commodity nowadays which means a lot of new companies have dipped their toes into the water. Sure, it gives people more options but they're not experts like we are. So make sure you're working with someone who knows what they're doing and isn't trying to sell you more equipment than your park has the space for or equipment that is potentially unsafe.
3. Customization: Does the company offer color and text customization? We know that some customers want bright, playful colors and others prefer more muted, natural options. That's why we offer agility components in two color palettes and have the option for many other colors including blue, gray, black, yellow and more. Also, nothing screams "This is our dog park!" like custom benches and equipment with the park name. We offer that too!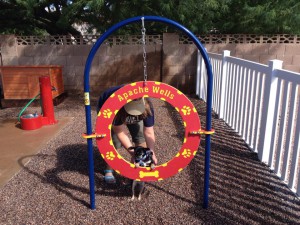 So whether you're just getting started and are looking for a turnkey dog park or have an existing park that could use some perking up, make sure you're getting the best advice. From us, of course!