Bye Flealicia! Fleas are rotten little creatures hated by humans and dogs alike. These prolific parasites measure between 1-2mm, and only live between 7-14 days. That may not sound like a long time, but they can turn your life into a nightmare during their short lifespan. Fleas multiply like crazy and females can lay 50 eggs per day! These buggy vampires survive by feeding off the blood of people and animals. Pet owners who have experienced a flea infestation will tell you how awful it is, especially if the fleas take to dining on the human members of the household as well. Fleas flourish year-round and can fool you by remaining dormant for months only to show their ugly faces with a new infestation when you least expect it. Read on to learn how to prevent these blood suckers from calling your dog home, and how to treat them if they turn up at your door.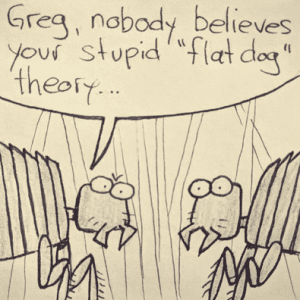 A Pound of Prevention
The most effective flea treatment is prevention. Between medication, pet hygiene, and keeping your home clean, you'll be much less likely to have a flea battle. Oral preventative medications are a great way to keep your dog flea free as they are fast acting, mess free, and effective. Many flea medications also prevent worms and ticks! You can purchase several options such as Capstar and Advantus over the counter, while you'll need a prescription for others such as Comfortis, Trifexis, and Sentinel. Speak to your vet about which medication is right for your pooch. Practicing proactive hygiene is an easy way to create an environment that isn't flea friendly. Bathe your dog every month with a flea shampoo (especially if they are outdoors or around other dogs). Make your home unappealing to fleas by vacuuming and mopping regularly, and by washing bedding every week in hot water. There are tons of natural home flea repellents such a diatomaceous earth and lemon spray that are fantastic at keeping fleas at bay. And though we are clearly dog folks around here, don't forget to treat any cats at home for fleas as well! Fleas are equal opportunity offenders, and would love to hop between your dog, cat, and you!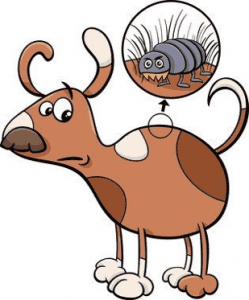 Kill 'Em All! How to Treat Fleas
If you find fleas on your best friend, act quickly to stop them from infesting your home.  You should monitor your pet daily for 2 weeks using a flea comb to make sure he is flea free after treatment. After those 2 weeks, monitor your dog weekly. Even if you don't have evidence of fleas inside, it's a good idea to implement some home remedies to keep them from moving in. You can spray your home with an herbal flea repellent and vacuum after sprinkling baking soda over your floors. Wash all your bedding in hot water to kill any lurking fleas, eggs, and larvae. If you have determined that you do have fleas in your home, it's time to bring out the big guns. You may want to use a home fogger or powder treatment to end the infestation. Keep in mind that these treatments do contain toxic chemicals, so please keep children and pets away until it's safe. You may also consider hiring a professional pest control technician to come in get the job done quickly and efficiently.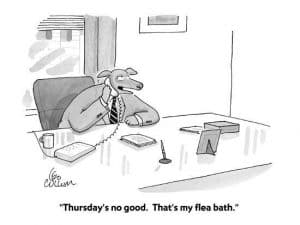 Flea Bites Bite
If you or your pet was unlucky enough to be bitten by fleas, it will become clear very quickly. Symptoms like itching, burning, raised red bumps and even skin infections (yikes!) are common among both dogs and people after experiencing a flea bite. People are most commonly bitten on their feet and ankles, while a dog can experience a bite anywhere on its body. Some dogs are even allergic to flea saliva, which exacerbates their symptoms and can result in extreme itching that lasts for weeks. What can you do for yourself and your best friend after being bit by a mean old flea? For your dog, start by given him baths with a skin soothing shampoo. You can also add some cornstarch into the bath which will temporarily relieve itching. If your dog's symptoms do not improve, you may need to take a trip to the vet. They will be able to prescribe topical medication such as hydrocortisone, or a steroid injection to stop the itching. For human flea bites, try not to scratch them! Scratching makes itching worse (for both dogs and people) so do your best to resist the urge. You can apply an anti-itch topical medication like calamine lotion to soothe the skin, as well as aloe or diluted tea tree oil to reduce burning. Antihistamines such as Benadryl relieve itchiness, though these medications should be taken for a short period of time. Now that you're armed with flea fighting knowledge, we hope you protect yourself and show no mercy!!!