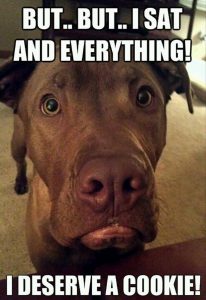 Dog training is today's hot topic! Whether you're working with a puppy or teaching your older dog new tricks, positive reinforcement is key in any successful program. Positive reinforcement is a method that focuses on rewarding the behavior you want instead of only pointing out what they're doing wrong (because who really succeeds in that environment!?). Like humans, dogs love being praised and getting special treats. When you do an especially great job at work, you may be rewarded with a pat on the back, a bonus or even a promotion. This makes you feel accomplished, appreciated, and ready to take on new challenges. The same is true for your dog when he's learning basic obedience, agility or fun tricks. The more you consistently praise and reward your dog, the more excited he will be to learn!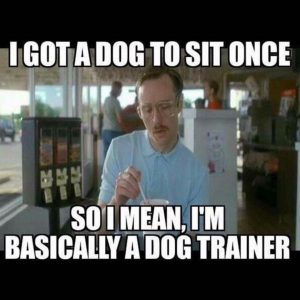 Positive reinforcement training should always include one of your dog's favorite things…treats! When selecting the best training treats for your pooch, there are several things to consider. First and foremost, avoid anything with ingredients your dog may be sensitive or allergic to. Second, go for small treats – you will be doling a lot of them out during your training sessions!  You can try using peas, small pieces of carrots, or blueberries as training treats for a healthier option or for dogs who will eat anything (we're talking to you Labradors!). The most important thing to consider is palatability; you want to pick a high value treat that your dog goes bonkers for to encourage him to do his best.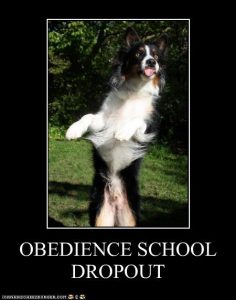 During training, a dog's attention span averages about 10-15 minutes, so it's important you keep sessions short and sweet. We recommend using a mark to help communicate with your pet quickly and clearly.  A mark can be a clicker, a verbal cue such as "Yes!" or a hand signal. Right after you mark the behavior, verbally praise your dog and give him a treat. If the behavior was an especially tough one to learn, throw your pup a "mini party" by rewarding him with several treats, pets, and tons of praise. When first starting to train your pet, it's best to work on the same command throughout each training session. As your dog gets more experienced with the process, you can add other desired behaviors or tricks in as well.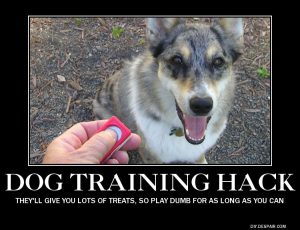 Patience is key to positive reinforcement training. Your best friend genuinely wants to make you happy and of course get a treat! There will be times when more challenging commands may take longer for Fido to get the hang of. Never shame, scold, or punish your dog for not understanding right away. The best part of positive reinforcement is that it strengthens our relationship with our dogs by fostering mutual trust, affection, and encouraging cooperation. With time, consistency patience and treats, your dog will impress your friends and family with all his new skills!