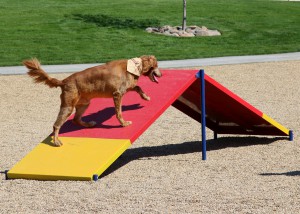 The A-Frame is a traditional piece of agility equipment; it's fun for dogs of all shapes and sizes. Now, not all dogs are natural climbers so it is important not to push them past their comfort level. Using treats, praise and positive reinforcement to encourage your dog can also be helpful! According to Pet Expertise there are four types of treats that work best and are healthy options for your dog. They recommend using regular dog kibble, cheese, chicken, and chopped veggies as healthy alternatives to dog biscuits or cookies.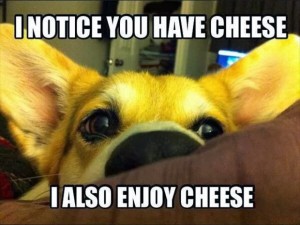 There are several important differences between our A-Frame and others. First of all, ours is not as steep. We think all dogs should be able to safely and comfortably play on our equipment! When an A-Frame is too steep and/or too narrow, it's not only unsafe, it will discourage dogs from using the equipment again if they lose their footing or feel they need to jump off the side. With that in mind, our A-Frame is only three feet high at the peak with an extra wide width of 38". Another important consideration is the angle of the ramp; traditional (professional) dog agility requires it to be a very steep 98 degrees for large dogs and 104 degrees for the smaller pups. By design, our A-Frame is only 43 degrees, so about half as steep. This helps to ensure that any pooch, whether an agility champ or a novice, can feel like a top dog once they conquer the ramp. One last word of warning, if a dog park company says they are using AKC or USDAA standards for their equipment, be careful! It's always a much safer bet to install recreation level equipment in a public park.
Our A-Frame is also coated with PawsGrip™, our exclusive highly textured material designed for maximum slip resistance. Other products may have rubber or textured polyethylene. Neither of these are really suited for the use a dog park sees, and the surface can crumble, degrade or crack quite easily. However, PawsGrip™ is made from the same materials used in truck bed liners, and provides a more stable and sturdy texturized surface that is super durable and holds up under frequent use and all weather conditions.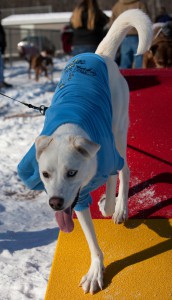 So remember when comparing dog park agility equipment, we don't just offer the widest range of products you will find, but also the safest and highest quality. Dog parks are essential in bringing your community together and sourcing safe equipment with a lifetime warranty will guarantee a long lived (and loved!) place for all the pooches and their people to play!