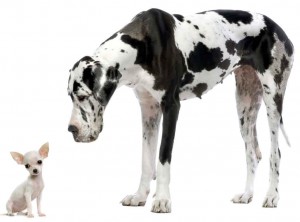 As dog parks continue to grow in popularity, the debate on whether or not the dog park design should separate the little guys from large dogs has started to gain a lot of attention, so we'd put in our two paws, err, cents worth. Here at Dog-ON-It Parks, we have designed and outfitted dog parks in all shapes and sizes. Our verdict? Space permitting, we feel it's safer all around to have separate large and small dog areas.
The separation helps ensure that both the dogs and their owners are able to enjoy their time at the park and also provides an opportunity to meet the needs of all park users, regardless of the size of their pets. This alleviates the need to have requested time slots for big or small dog play time and can also help to maintain the peace, so to speak. An important consideration in establishing separate areas is also providing clear communication in regards to the size restrictions for each area. Posting dog park rules and signs like these is an easy and affordable way to help make sure everyone is on the same page.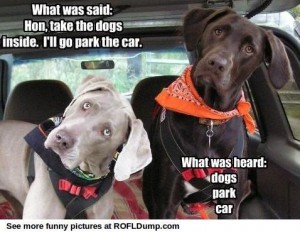 The magic words "Go for ride?" are sure to excite any pooch, especially if they know where they're going and sometimes that excitement may be too much for a dog new to the park, or just a dog that is a little less confident. And when you add size to the equation? It's even more challenging.
Large and small dogs often have different play styles and different breeds have distinct (and often humorous!) personality traits which can factor in as well. Even unintentionally, big dogs can end up injuring a smaller pup because they just aren't aware that there's a little guy running around with them. Also, if a scuffle does happen to break out, having a more even playing field from the get go can possibly save a dog's life.
This concept is also ideal for shy or timid dogs. The smaller area is often calmer and less overwhelming than the larger area would be with four big dogs hurtling towards you and your pooch to greet you. Starting out in the small and/or shy dog area of the park is a great way to introduce your pup to the dog park in a more neutral environment, so they can have a positive experience.
Sometimes due to space or budget considerations, it isn't feasible to separate the pack so here are some suggestions to promote a safe and fun environment for everyone:
1. Always supervise your dog.
2. Make sure your pooch has a strong recall. Practice makes perfect, and if your dog is less than enthusiastic about coming when called, work on this skill at home with some high value treats. Pretty soon, you calling their name will equal "On my way!" instead of "Nope – I'd rather play!"
3. This is a biggie. Please, please make sure that your dog is properly socialized before visiting your local dog park. You are responsible for your pet's success and safety. Not sure if your dog is ready? Try visiting the park during off hours where there aren't as many dogs present to see if it's a good fit.
4. Know the park rules before you go. Many dog parks don't allow small children, food, puppies and dogs in heat, among other local rules that may vary from city to city.
5. Have fun!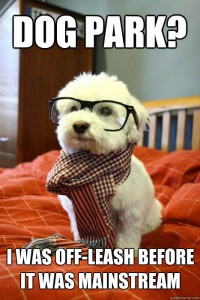 Interested in more dog park design tips and expert advice? Sign up for our newsletter, follow us on Twitter or like us on Facebook. Woof!
Tags: bark park, big dogs, dog agility, dog breeds, dog park, dog park advice, dog park design, dog park equipment, dog park expert, dog park rules, dog park tips, dog safety, dogs, large dog area, off-leash, off-leash area, pet park, pet safety, pet-friendly, pooch, shy dogs, small dog area, small dogs